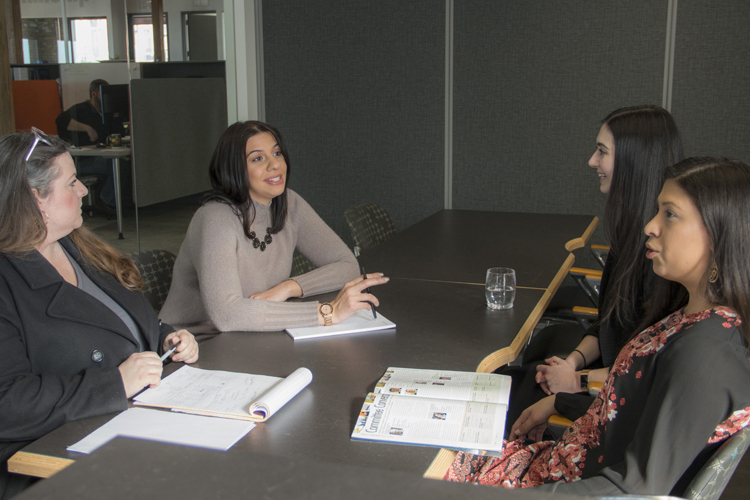 Underscoring the Importance of Hiring Women
03.6.17
Author: Jasmin Mejia
Here's a quick introduction to just some of the women who work at Blinderman.
At Blinderman, we underscore the importance of hiring women, both in the field and within our office, and the impact women have on our vision, growth and purpose. Here's a quick introduction to just some of the women who work at Blinderman.
As a member of Blinderman's leadership backbone, VP of Marketing & Communications, Christine Blevins, with almost 40 years of experience in design and construction – and over 10 of those years with Blinderman – is one of the authors of our company purpose, vision, value and strategic course.
Our Safety Director, Brittany Long, a Certified Journeywoman Carpenter is instrumental in developing and implementing our Safety program and instilling Safety as a VALUE throughout our company culture.
Margo Olson, AIA, our highly-esteemed Senior Project Manager, leads Blinderman's recent plunge into the hospitality sector, including managing with great success the renovation of a boutique line of Graduate Hotels for AJ Capital Partners. Emma Ghariani, a former Blinderman intern, is now a full-time Project Manager is Emma is working on the Graduate Team with mentorship from Margo.
Superintendent/Safety Manager Sue Torres, a Certified Journeywoman Carpenter, consistently proves to be an asset to every project team and site she is assigned.
These are just a few of the women that makeup the Blinderman family, and we will continue to honor their hard work and remain committed to their success in the industry.